While many antivirus services claim to offer free online scanning tools, it turns out very few are actually cloud-based services, and even fewer operate effectively without requiring software download and installation.
To clear up any confusion, we've verified and ranked which of the top 7 REALLY FREE virus scanners are truly online, and which are not.
What is a virus scanner?
A virus scanner is a web service that runs checks on your device from a remote server, eliminating any system lag on your PC or mobile device without having to commit to a paid subscription service.
If you suspected that your device is infected with a virus and you haven't yet installed a paid antivirus software, then a free online virus scanner can provide a quick and easy solution without having to download and install software.
However, not all virus scanners are the same, and very few are actually free, web-based services. They also vary considerably in terms of accuracy, customization and added features.
How we tested them
To evaluate which are truly the best online virus scanners, we used a device with several known malware infections and tested it individually across the most popular and robust antivirus services. Then we rated them according to the following criteria:
Ease of use
Online vs. download
The ability to identify infections
Additional features
Price
Drawbacks
The following seven ranked highest on all factors:
Let's look at each virus scanner in more detail…
1. Safety Detective Vulnerabilities Scanner (No-Download Required)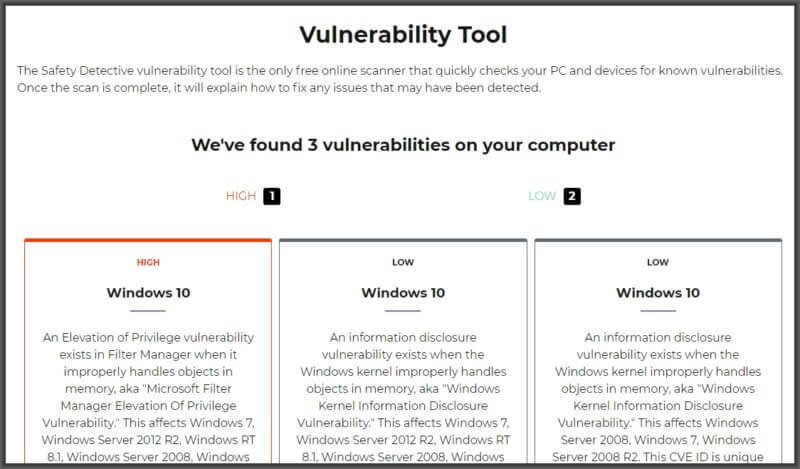 Summary:
The Safety Detective Vulnerabilities Scanner is a completely free, cloud-based service that allows you to quickly scan your system for any known vulnerabilities. After a thorough scan is performed, the tool warns of any known issues on your PC or mobile devices and explains how to fix them.
The scan takes only a few seconds and provides a high level of accuracy when identifying system vulnerabilities across all platforms. The biggest drawback is that it doesn't repair the problem, but rather guides the user on the best possible fix. So while it's free, light and very quick, it should only be relied on for identifying problems, not mending them.
Pros:
No download required
Scans entire system within seconds
100% accuracy rate
Free service
Clearly explains how to rectify the problem
Cross-platform
Indicates level of threat
No ads
Cons:
Does not repair recognized vulnerabilities
No options for customization
Personal Review:
While many antivirus companies claim to offer a web-based scanner, the fact is few actually do, with Safety Detective's Vulnerabilities Scanner and VirusTotal being the only two exceptions I was able to find.
While not considered a full-scale antivirus per se, this online scanner offers a quick and easy to use cloud-based solution for detecting any suspected problems on your PC or mobile devices. If any issues are discovered, it provides a threat level warning, while guiding the user on how to rectify the problem.
As a truly free, cross-platform solution, it's a great online tool for quick check-ups without any downloads or commitments.
See Safety Detective Vulnerabilities Scanner >>>
---
2. VirusTotal (No-Download Required)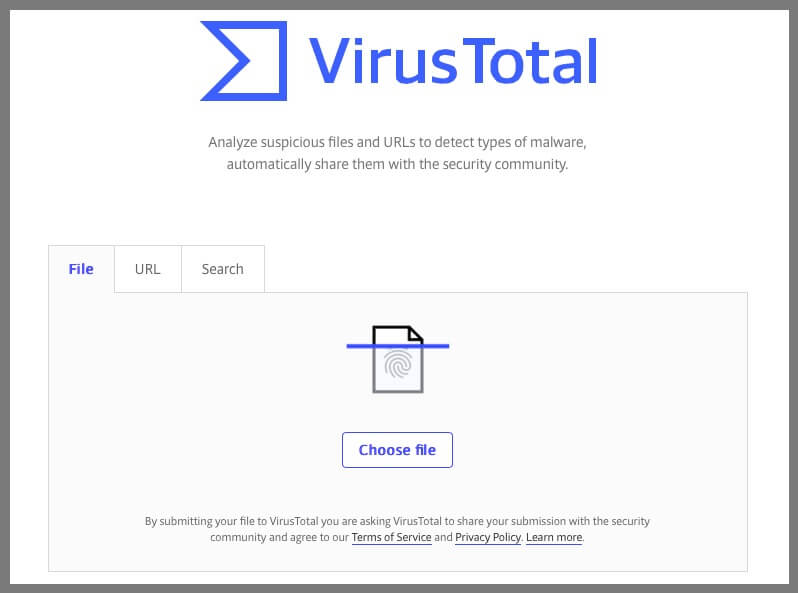 Summary:
VirusTotal is a free online scanner that enables users to analyze suspicious files and URLs for suspected malware by referencing an large online database of previously discovered infections.
Though it scans uploaded files impressively fast, it's only able to analyze one at a time, making it an unrealistically cumbersome task to run every single file on your PC for a full system check. In short, though it operates as a true web-based scanner, it can't be classified as a system-wide detection tool.
Pros:
No download required
Free service
High level of accuracy
Performs quickly
Several scanning options
Comprehensive reporting
Cross-platform
Cons:
Limited to one file/URL at a time
Unable to remove infection
Personal Review:
VirusTotal is a free service that enables the user to plug in a single file or URL, which is then aggregated through many different antivirus engines, cloud-based analysis tools, and website scanners, in order to check for viruses.
I was impressed with how quickly it worked, and how detailed an analysis report it was able to produce. It ran one word doc file through 58 different antivirus engines, which was impressive.
After performing the online scan for malware, it automatically shared the results with its community of users, thereby raising the global IT security level in real-time. As a free and truly online tool, it's great for one-off checks but not robust enough to perform a system wide scan.
---
3. ESET Scanner (Download Required)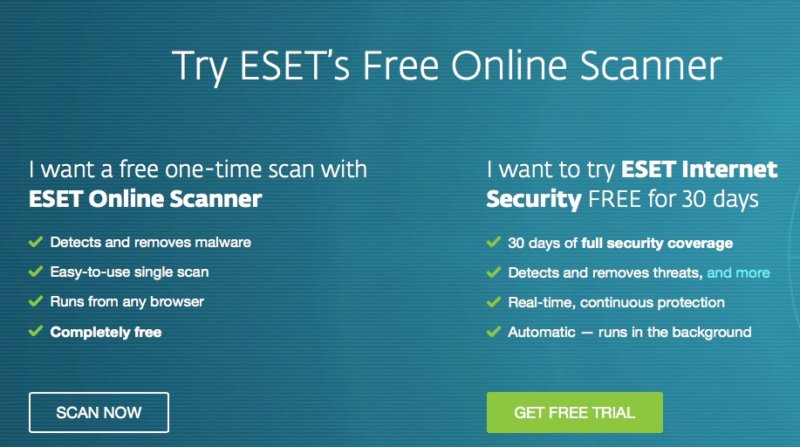 Summary:
The ESET scanner (see user reviews) is a reduced version of the full ESET Security Suite. This download-only scanner provided flawless accuracy when identifying infections and was able to name and locate every suspicious file on our testing device.
Although the scan took 30 minutes, which is longer than other scanners, it thoroughly explored the operating memory, auto-start locations, and local drives.
It also lets you delete or quarantine the infections, which is not an option with some virus scanners. The major drawback? It's only available on 32-bit and 64-bit Windows systems; so if you use a different operating system, you'll have to look elsewhere.
Pros:
Scans your entire computer
100% accuracy rate
Includes anti-stealth technology (anti-rootkit)
Scan customization available
Comprehensive report available
Cons:
Downloadable add-on required
Only available on Windows
Full scan takes 30 minutes

Personal Review:
I was disappointed that a download is required, but this seems to be a common feature of most virus scanners. Very few work directly from your browser. However, it's clear that the ESET Scanner is a high-quality service.
The amount of customization is notable; you can specify which features run and set automatic scans. I was particularly impressed with the anti-rootkit option, as it requires more sophisticated technology.
The ESET Scanner offers a more in-depth virus scan than many others like it. Although it took longer than some, the detail of the anti-virus check and the results were worth the wait. Even without the option to delete/quarantine, it would have been easy to locate and delete the infected files manually.
The scanner is available for one-off events, but you can opt into a 30-day free trial of ESET's full security suite. This package offers continuous, real-time protection without having to commit to a subscription or payment.
---
4. F-Secure Scanner (Download Required)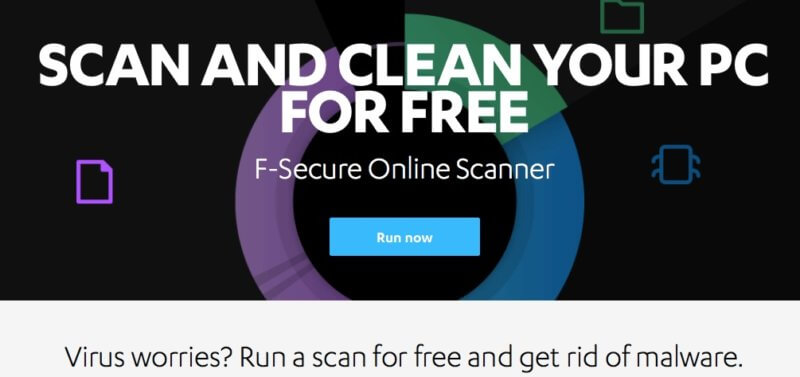 Summary:
F-Secure (see user reviews) is a Finnish cybersecurity company that offers a range of free online tools. Their download-required virus scanner is sleek, simple to use and effective.
When tested, it removed the majority of malware on our device. The whole process was impressively quick for a download service, taking less than a minute. Once identified, you can see information about the infected files, with internet links for more details.
The tool can also successfully remove the malware it finds via a system restart. While very user-friendly, it's currently only available for Windows, but the company offers a free trial of their F-Secure Safe software for Mac users.
Pros:
Removes infected files
70% accuracy rate
Takes less than a minute to scan
Simple user interface
Regularly updated for new threats
Cons:
Only available on Windows
No cloud-based scanner
No custom scan options
System-restart required

Personal Review:
The F-Secure virus scanner is definitely near the top of the pack. Though it requires a downloadable add-on, it takes up minimal memory. You can share your results with the company to help keep their threat database up-to-date.
Not only does this ensure high-quality detection, but it also creates a sense of community. You don't have to worry about privacy, as all results are anonymous.
The speed of the scan was another selling point; as was the ability to actually remove the threat. F-Secure allows users to scan and delete infections at no extra cost. Although restarting the device was a slight inconvenience, a surprising number of other scanners don't offer disinfection at all.
Overall, F-Secure scanner is impressive as a fully-rounded malware detection tool. It didn't manage to detect every single threat but it still performed well in all areas.

---
5. BitDefender Virus Scanner (Download Required)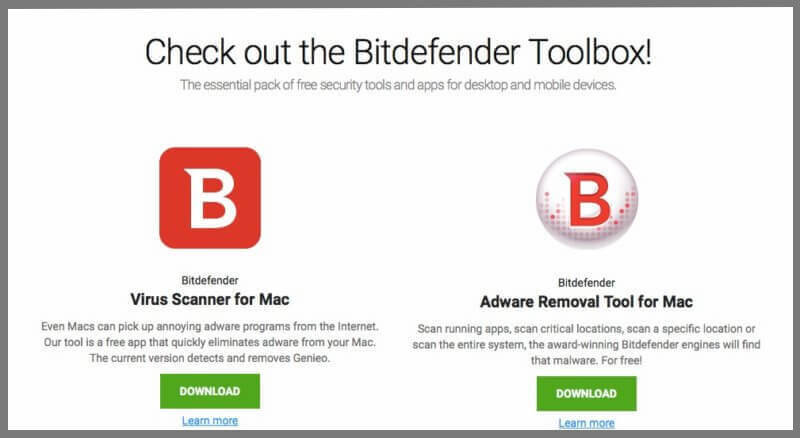 Summary:
BitDefender Virus Scanner (see user reviews) is a download-only low-usage app that's part of BitDefender's free toolbox. You can use it to perform a quick scan of your device's critical areas, do a full system check, or target a custom location. We chose the first option and it completed the scan in less than one minute.
It managed to identify that the computer was infected but didn't find all the threats. We were able to quarantine the files but had to change user privileges to be able to disinfect. Overall, the scanner was generally effective but overly complex in some areas.

Pros:
Available on Explorer, Firefox, and Chrome
Takes < 1 minute
Adware removal tool also available
Identifies malware fast
Fastest option available
Cons:
No detailed results
Download-only
Some reports of interference with other apps
Limited accuracy
Personal Review:
The BitDefender Virus Scanner was by far the most complicated to use. I liked how it listed each found threat, the 'action taken,' and a route to manually find the file. However, after locating the infections, it wasn't clear how to delete them. Plus, the interface itself isn't very attractive.
Once I finally managed to find my way into the settings, it was easier to see how everything worked. The scanner can be set-up to automatically disinfect or quarantine a file, if it's capable. It wasn't able to detect all of the known malware on the computer, which was clearly an issue, but was capable of removing common threats.
I also tried out the adware removal tool but was disappointed that it only worked for two adware types. In summary, the BitDefender Virus Scanner can get the job done, but only with some hassle and inaccuracy.
---
6. Norton Security Scan (Download Required)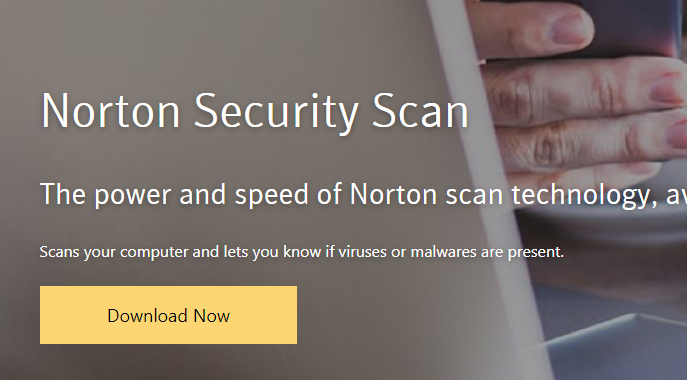 Summary:
Norton (see user reviews) is a trusted name in cybersecurity, offering high-quality antivirus protection for nearly 30 years. Their free Security Scan tool provides a quick scan of your entire system.
But much like the majority of tools purporting to be web-based services, the Norton Security Scan first prompted a software download in order to continue with the scan. Only after the software is downloaded and installed can the user perform checks online and offline, so in actuality it can't be classified as a real web-based scanning service.
When tested, it identified 70% of malware, alongside many suspicious cookies or apps that required updating. While its results were broader than most, the main downside is you aren't able to remove the infections. Instead, you're redirected to purchase Norton's full antivirus software.
The client also doesn't disclose the names and locations of the infections, so you can't even remove them manually. However, if you just want to check whether your system is infected with malware, then Norton Security Scan is a decent option.

Pros:
Full system-scan
Suspicious cookies scan
Identifies system vulnerability
High rate of detection
Trusted and established brand
Cons:
Not a true web-based service
Can't erase infections
Only available on Windows
Advert for full software
Personal Review:
According to my research, most well-known security companies offer scanners in order to promote their brand while encouraging the user to purchase a more robust paid service. So the fact that it couldn't disinfect my system didn't come as much of a surprise. However, removing the infection is arguably the most important part of antivirus protection.
Despite this, the actual detection rate is pretty impressive. Instead of just highlighting malware, it explores numerous elements of your device to uncover any potential security threats. If you already have an antivirus running, Norton Security Scan is ideal for performing instant checks, instead of having to wait for a full system scan. Then, if you find an infection, you can switch to your installed software.
Unfortunately, Norton's Security Scan isn't compatible with Mac, but Apple users have the option to test out a trial version of any other Norton antivirus app without financial commitment or having to provide credit card information up front.
See Norton Security Scan Tool >>>
For Full Solutions See Norton Deals >>>
---
7. Bullguard Virus Scan (Download Required)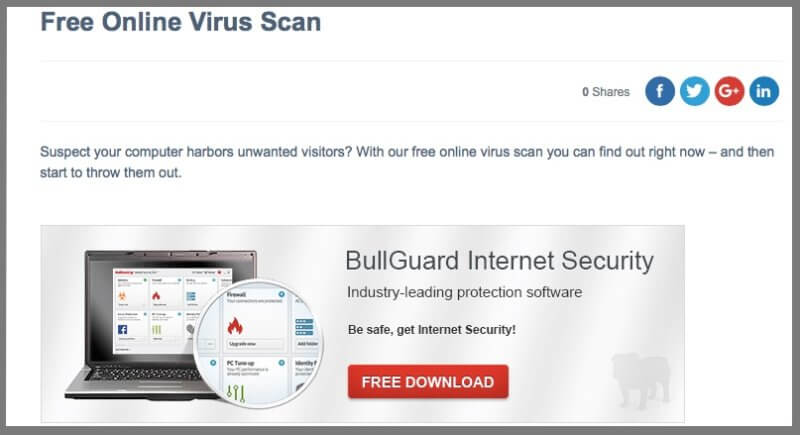 Summary:
Cybersecurity giant Bullguard used to offer a dedicated online virus checker, however, they recently updated their system so users can now download a free trial of their premium security packages. These free apps provide fewer features, so are less memory-heavy for your computer.
They can also be accessed via any browser, offering higher compatibility than other options. Unfortunately, it does require significant set-up time. Plus, no instant scan setting exists; you have to select critical areas in a custom scan.

Pros:
Available on most browsers
Several options available
Premium quality
Available for 60 days
Cons:
No dedicated online scanner
Long installation process
Personal Review:
It was surprising that Bullguard removed the online scanning tool from their site. However, their free trial options are still remarkably quick and convenient to use. When installing, I wasn't impressed by the time it took. Not only did I have to go through a set-up process, but I also had to create an account.
Although the client is well-designed, it doesn't offer an auto-quick scan. To only search the critical regions, I had to create a custom scan and choose them manually. Nevertheless, the results were promising. It found most of the malware. I didn't expect anything less, as the app is just a smaller version of their premium antivirus engines.
While I wouldn't recommend the Bullguard virus scan as my first choice, it did successfully achieve its goals eventually.
---
Paid Antivirus Vs. Free Online Scanner
An online virus scanner can be used to identify threats quickly without committing to a paid service; but as we discovered, very few cloud-based scanners actually exist, aside from the Safety Detective Vulnerabilities Scanner. In any case, an online scanner can never replace a full security suite.
At best it provides vulnerability detection, a basic overview of the problem, and guidance on solving the underlying issue, but not the ability to actually resolve the problem. If you want to ensure that your device and files are safe, we recommend installing a highly-rated, premium antivirus.

On the other hand, if you're simply looking for a fast system check-up with no download required, and no financial commitments, a free online scanner like the Safety Detective Vulnerabilities Scanner provides the first line of defense before deciding which full-scale antivirus software you wish to purchase.
Still not ready to purchase an antivirus? Then you may want to read about the 10 best (and really free) Windows antivirus programs for 2019.