I tested out the two elements of this Finnish cybersecurity company's top line product, F-Secure Total: F-Secure SAFE (which includes both anti-virus and internet security protection features) as well as the FREEDOME VPN. The result? It's a fantastic tool, offering robust protection at the basic level which means you don't have to spend a fortune to get the protection you need.
Security
F-Secure SAFE includes real-time antivirus protection that is enabled by default. There's also a DeepGuard tool to inspect your system applications and alert you should any known carriers of malware have made it onto your list of installed programs (the tool uses behavior-based monitoring to achieve this). Finally, DeepGuard automatically develops a list of "protected folders," which it regularly inspects for ransomware. I liked how easy it was to customize every one of these tools. If I wanted to add some non-user paths into my list of protected folders, for instance, it was simple to make that configuration change—likewise, if I needed to whitelist a program to let the system know that it was not malware.
There's also a nice submit a sample tool if you want to manually run a download you retrieved online through the program's scanning engine. It's nice that the user is given the ability to do this in addition to the usual ability to run the system through a hand-picked list of files and folders. Finally, users are able to configure scheduled scans to run at specific intervals.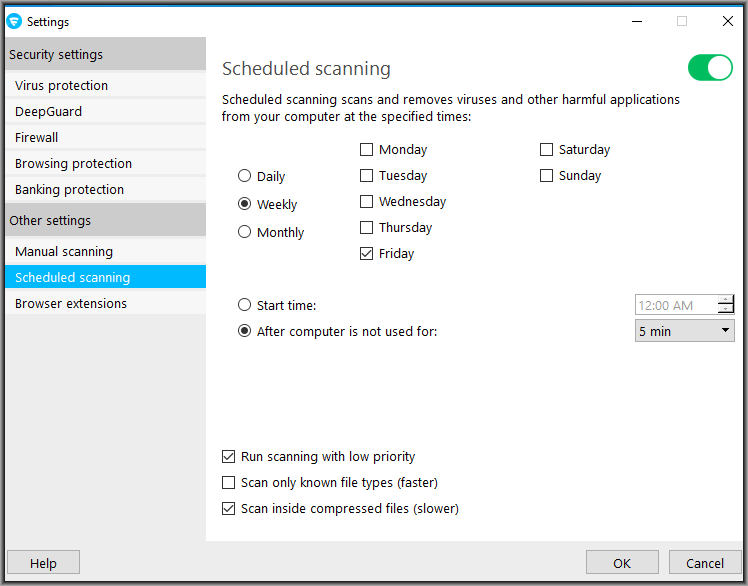 While this feature has become fairly standard among anti-viruses, I liked the ability to set the scan to run once the computer becomes idle. If I'm working at my computer but forget to turn it off, it's a perfect opportunity to secure my system so that I know everything is running safely by the time I come back! And what about the effectiveness of the scans themselves? It effectively caught my test samples and independent testing labs have previously lauded it with a 100% detection and removal score.
All Tools Kept Together
The program's firewall is not anything more than a basic toggle button. It is essentially just another front-end for Windows' built-in firewall (Window Defender Firewall). While this means that F-Secure SAFE doesn't add any additional settings to that tool, it's certainly nice to have everything computer security related conveniently packaged into one program.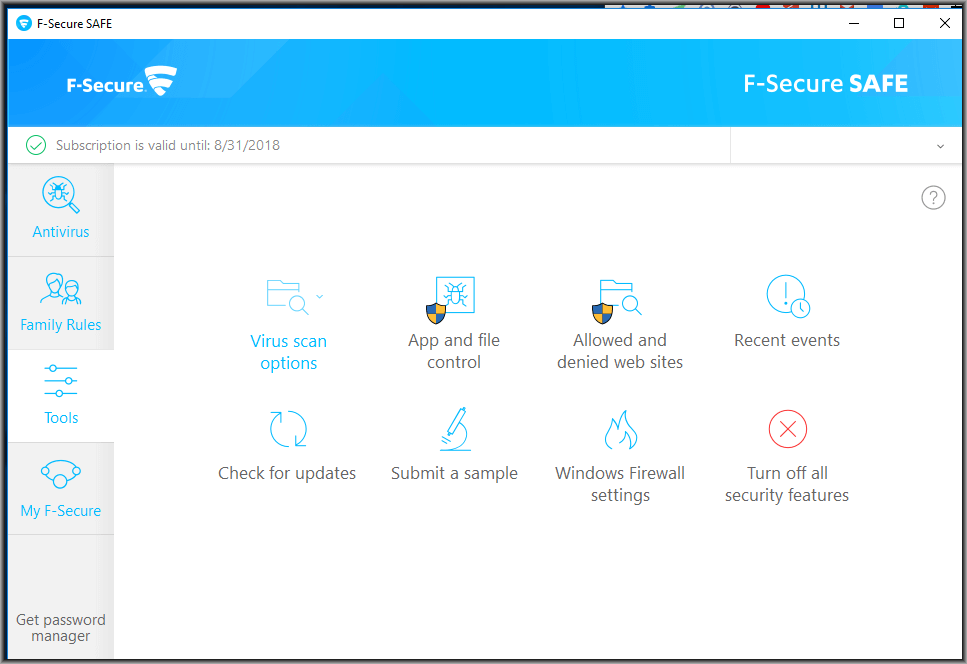 Parental Control Made Easy
There's also the Browsing Protection by F-Secure package which tucks tidily into Google Chrome's notifications area. Most of the configuration settings for this can be edited directly through the F-Secure Web Panel. Time limits and category-based content filtering rules can both be easily configured. This makes the tool a perfect choice for those who are deploying F-Secure on multiple family members' devices and want to force adherence to a chosen filtering policy. This feature also automatically flags which websites it is going to block as soon as the results populate in Google by adding tick and minus indicator to the left of the page title. And, if you are the user with administrative privileges, there's an easy button for you to whitelist a particular URL.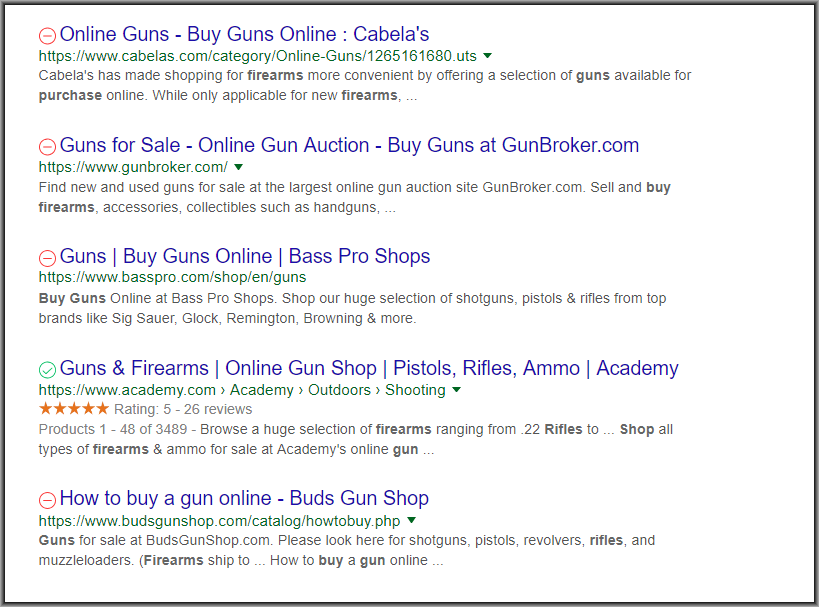 Features
FREEDOME VPN Provides Both Geo-Location Changing and Security
The other component of F-Secure Total is, of course, the FREEDOME VPN. This is a relatively modestly-sized VPN network consisting of 28 servers around the world. While it's not going to be the top choice for a user seeking a wide network to watch international television, there are more than enough server options to satisfy basic IP-changing requirements. Additionally, the speed overhead was relatively acceptable, and the program provides a nice little read-out of how much traffic it has protected. With FREEDOME activated, I was able to draw down a connection of 9.7 Mbps—compared to 27.0 Mbps before activating the VPN.

Block Tracking Threats with "Tracking Protection"
A slightly less typical feature within the VPN program is the "Tracking Protection" utility. This feature keeps a watch out for websites that are trying to install tracking cookies on your machine. It also monitors your installed programs' outbound communication traffic to make sure that they are not leaking your location to data collection websites. The tool also includes a Tracker Mapper. This geographically plots websites that have attempted to track you so that you can know where threats are coming from.
Ease of use
F-Secure SAFE has to be among the easiest antiviruses that I have ever used. The program's design is incredibly simple and that's mirrored by the speed with which it runs. Although signing up for the 30-day free trial takes a little more legwork than other solutions, it's more than worth evaluating (and buying!).
Support
F-Secure has support covered from every angle: there's a how-to and FAQ page, help forums, live chat support, and telephone support. The telephone support is offered in more than ten languages—including Japanese! General hours of operation are from 09:00 to 18:00. The support documentation is well-written and clean, and a version history in the sidebar makes it easy to see how recently the information was updated. To test their support team out, I posed a feature question to a representative. A response was received in under one minute and I could quickly move on with my evaluation of the product. There's also the ability to "save chat" which pulls down a .txt. transcript of the interaction for your records.
Pricing
F-Secure Total is a product that I quickly grew to love. Its pricing is about average—but the fact that the license covers three devices shouldn't be ignored. It's also worth bearing in mind that the price includes both the antivirus tool as well as a subscription to the VPN. Overall, I would say that this makes the tool excellent value for money.