While most people are aware of the danger computer viruses can pose, spyware can be just as damaging, if not worse. In a nutshell, spyware is unwanted software that infiltrates your devices, lurking silently while extracting your most private and sensitive information and relaying it back to hackers, shady criminal organizations, and even governments.
Because so much of our most sensitive data is stored digitally on our computers and electronic devices – including our sensitive banking info, passwords, and credit card numbers – protecting yourself against such major breaches of privacy is essential.
Here are the 8 best anti-spyware tools we tested for identifying infections and keeping your most important data from getting into the wrong hands.
What are the Risks of Spyware and How to Detect it
If you're already searching for spyware solutions, we're going to assume you already know a fair bit about spyware and how it works. For those who don't, you can read our article on What is spyware? Guide to a Secure Defense.
The first question is, how does it make its way onto your computer in the first place? More often than not, the user unintentionally downloads spyware thinking it's something else. Once installed on a device, it begins tracking personal data such as:
Online browsing activity
Login information
Location
Even your keystrokes (passwords, credit card numbers, etc.)
Spyware can infect both internal storage hard drives and Solid State Drives (SSDs) as well as external storage devices like USB sticks. While well-designed spyware runs quietly in the background, making it hard to detect, there are some key red flags to watch out for.
Signs Your PC Might be Infected with Spyware
The operating system or certain programs run slowly
Pop-up advertisements suddenly appear
Your web browser redirects or refreshes itself at strange times
Spam emails are being sent from your account without your knowledge
Protection against spyware is often overlooked in the antivirus market. Since spyware is only one type of digital threat, some programs designed to protect against malware or viruses don't do enough to combat spyware.
However, plenty of anti-spyware software is available – some even for free. We've tested and analyzed all 47 antivirus programs on the market and here are the 8 best:
Quick Links: 8 Best Anti-Spyware Programs for 2019
Full antivirus programs that include spyware protection:
1. Avast Free
2. AVG Free
3. Malwarebytes
Dedicated anti-spyware solutions:
4. Adaware
5. SUPERAntiSpyware
6. SpywareBlaster
7. Emsisoft Emergency Kit
8. Spybot: Search and Destroy
General Antivirus Software
If you're looking for an all-in-one solution that covers all types of digital security for your devices and protects against viruses, malware, ransomware, and other threats in addition to spyware, here are some of the best full-scale antivirus programs which include spyware protection:
1. Avast Free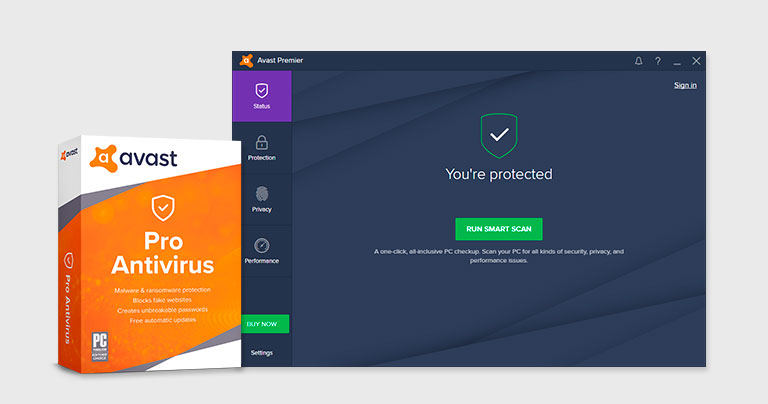 Avast is an excellent all-round antivirus programs for Windows. It consistently scores high on malware detection tests. When running, it effectively takes down spyware before it has the chance to do any damage.
Plus, it offers a host of useful security features, including:
A network security inspector
A Virtual Private Network (VPN)
A file cleaner for freeing up hard drive space
Software updater
Web protection
A password manager
Keep in mind that Avast attempts to install Google Chrome and the Google Toolbar during installation, so opt out of this if you don't want it. If you're looking for even more features and to avoid the pop-ups you'll get with the free version, then we'd recommend upgrading to the paid version.
2. AVG Free

AVG and Avast are run by the same company and use the same engine. Both have stellar malware detection rates. However, there are slight differences: Unlike Avast, AVG doesn't offer network security or a software updater.
But it does offer:
Data theft protection
A file shredder for getting rid of sensitive data permanently
Web and email protection
Deep Scan that searches for spyware hidden behind unknown extensions or archived directories
No registration required (unlike Avast)
Because AVG scans files in the order they appear on the hard drive, scanning is exceptionally fast. Another plus is that registration isn't required to install AVG, unlike Avast.
3. Malwarebytes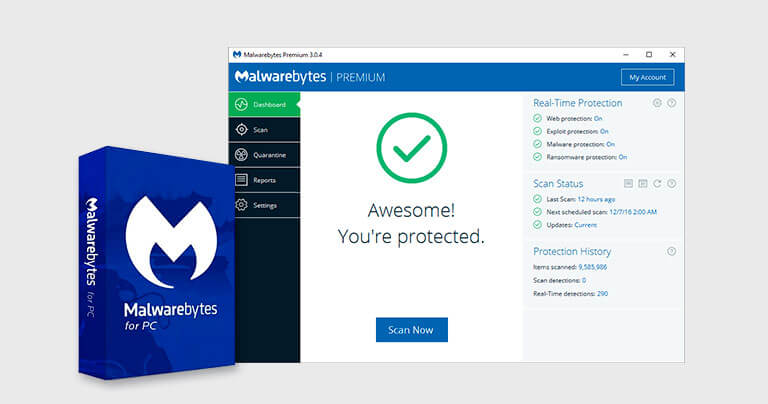 A common choice for PC veterans is a combination of Malwarebytes (see user reviews) and Windows Defender because these programs work very well together. Malwarebytes has strong detection rates and a no-nonsense, unobtrusive design.
It scans your registry and your processes and provides a heuristic analysis for finding more resilient spyware, unknown viruses and rootkits.
While the free version of Malwarebytes covers everything you need in terms of scanning, the paid version (which you can try free for a month) adds some non-essential but solid features such as:
Scheduled and automatic scanning
Real-time protection
Browser protection
Any threats can be quarantined at the end of each scan with the Malwarebytes free version. On top of that, the antivirus is capable of catching rootkits. All of these features make it a reliable anti-spyware tool.
Dedicated Anti-Spyware Solutions
If you're looking for a more specialized anti-spyware tool, there are many programs that focus solely on combating spyware. Here are a few options:
4. Adaware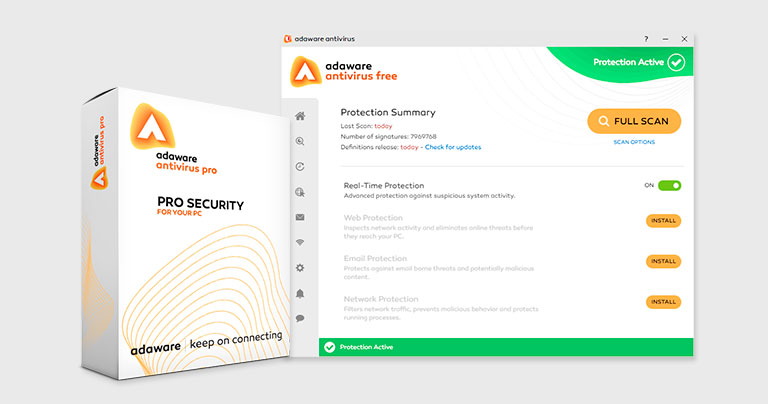 Adaware (see user reviews) blocks incoming spyware before it can infect your device. Its real-time protection, scheduled scanning, and automatic updating make it a solid choice. There's even a dedicated gaming mode for disabling notifications during games.
Adaware also offers protection against:
Rootkits
Registry attacks
Suspicious processes
The free version of Adaware is enough to defend against spyware, but if you want web, email, or network protection, you'll have to pay for the pro version.
5. SUPERAntiSpyware
SUPERAntiSpyware targets malicious programs that threaten your personal data and privacy, including:
Spyware
Adware
Trojan Horses
Worms
Rootkits
During scans, the program skips over previously-scanned files and low-risk directories, resulting in a faster scan. It can also catch spyware hiding in compressed files.
SUPERAntiSpyware is completely free, though if you're looking for a program that offers scheduled scanning and automatic definition updates, you'll have to upgrade to the paid version.
6. SpywareBlaster
Like Adaware, SpywareBlaster doesn't remove spyware that's already installed on the system, but it does prevent spyware from installing in the first place through web browser plugins that scan for malicious scripts and cookies that track your activity.
It comes with a couple of unique features as well:
System Snapshot to backup and restore your machine to a previous state should any spyware manage to enter your system
Hosts Safe to backup and encrypt hosts files, which are popular targets for spyware
7. Emsisoft Emergency Kit
Emsisoft Emergency Kit is a small and portable option for those who want spyware protection on the go. Weighing in at only 700 MB, Emsisoft does not require installation to run. In addition to scanning emails and compressed directories, the program can detect and remove:
Malware
Spyware
Worms
Adware
Rootkits
Keyloggers
Not only that, but Emsisoft also looks for traces of spyware in your registry that can suggest potential problems.
Get Emsisoft Emergency Kit Now >>>
8. Spybot: Search and Destroy
The name may sound like a cheesy 80s action film, but Spybot: Search and Destroy is one of the most advanced anti-spyware solutions we've looked at. For advanced users looking for total control, Spybot blocks threats at the web browser level by disabling tracking cookies that compromise your privacy.
It also comes with some other cool features like:
Rootkit scanning
Startup tools
System immunization against malware attacks by blocking access to sites, tracking cookies and browser plugins known to contain malware
The "search and destroy" part refers to the system scanner that efficiently detects and removes spyware and rootkits from your system. While powerful, Spybot is not very easy to use, so it's not recommended for beginners or those just looking for basic protection.
Get Spybot: Search and Destroy Now >>>
Stay on Top of Spyware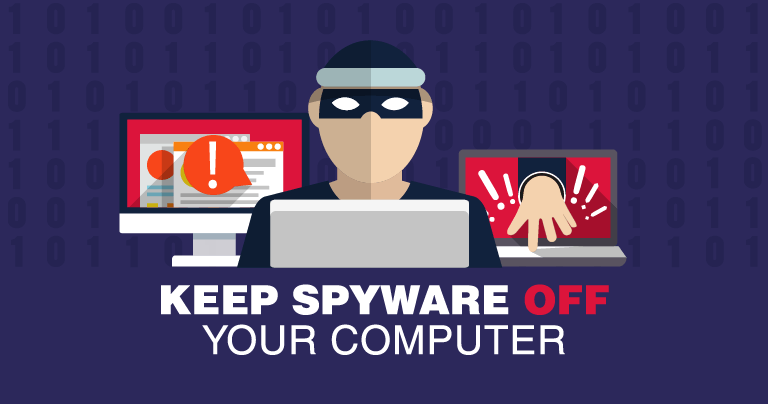 Spyware hackers are very good at their job – tracking your browsing activity and logging your personal details in order to steal your money, private and sensitive data, and even your identity. That's why it's crucial your devices are properly protected.
And while free versions may be better than nothing to keep you protected, they do come with a host of other catches like annoying ads and pop-ups. If you're looking for well-rounded protection, then we'd suggest going for a premium antivirus that we've tried and tested. Here are our top ten.