TotalAV Overview
TotalAV makes some bold claims about its product. Its "antivirus engine" is apparently "trusted by millions of people". It offers "daily virus definition updates" and an "outstanding virus detection rate".
But aren't viruses old news? What about ransomware, trojans, spyware, and bots?
Finding the right antivirus software can cost serious time and money. I should know - I've been testing every major antivirus program on the market. Read this in-depth review to see if TotalAV is worthy of your investment.
TotalAV Security Features
TotalAV offers the full range of security features you'd expect from an antivirus program. In some respects it goes beyond this, and looks more like a complete internet security package.
However, some features are unavailable even with the most expensive package. And as for the free version… we'll come back to that later.
TotalAV's branding is oriented toward the detection and removal of viruses, however this does not mean it lacks protection against other types of malicious software.
In this case, "antivirus" is consumer-friendly terminology for antimalware. TotalAV is well-equipped to tackle modern threats, including the current kingpin of the malware criminal underworld: ransomware.
Real-Time Virus and Ransomware Protection
TotalAV is quite a new product, and there is little in the way of third-party testing. So I decided to run some tests of my own.
I started with some tests to ensure that the program is genuine, and that it was active and correctly configured.
TotalAV recognized and quarantined all four of my virus test files. TotalAV didn't notice when downloaded a zipped version of a virus test file, but it did spring immediately into action when I tried to run the compressed file.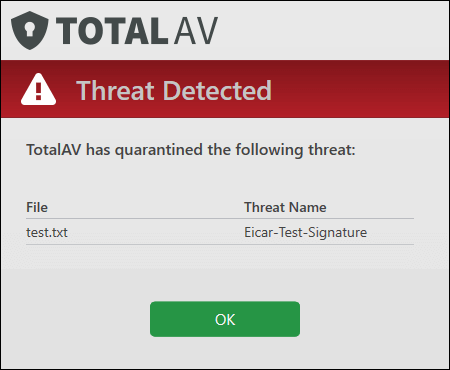 It would be pretty worrying if TotalAV had failed to recognize these harmless "malware" files. So this, in itself, is not surprising.
What is impressive, however, is how quickly TotalAV recognized them. TotalAV had quarantined all files less than a second after I created, downloaded or unzipped them.
In addition to general malware protection, TotalAV is keen to promote its advanced ransomware protection.
Ransomware is currently wreaking havoc across the web, and some estimates place the total economic cost of this particular type of malware in excess of $11 billion in 2019.
Ransomware hijacks your device, encrypting your data or locking your screen until you pay a ransom to the hacker. This is a particularly distressing form of cybercrime that can leave you little choice but to transfer cryptocurrency to some unknown assailant - with no guarantee that they'll unlock your device once you've paid.
TotalAV instantly recognized the fake ransomware I unleashed on my PC. Again, the quarantine took place less than a second after the threat arose.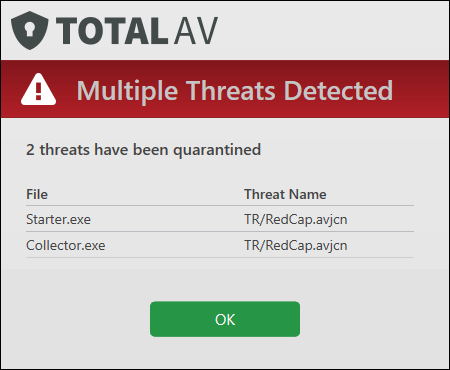 TotalAV appears to represent a safe choice for those who are rightly worried about ransomware.
Remote Firewall Access
A firewall monitors your internet connection, shielding your devices from incoming harmful software. A firewall can be an important part of your online security set-up.
Some internet security programs, such as Avira, have withdrawn their firewalls in recent years. The fact is that Windows Firewall does a decent enough job for most PC users.
TotalAV states that it offers remote firewall access across all of its paid packages. This is technically true, but arguably misleading. TotalAV doesn't provide a firewall - just a way to control Windows Firewall.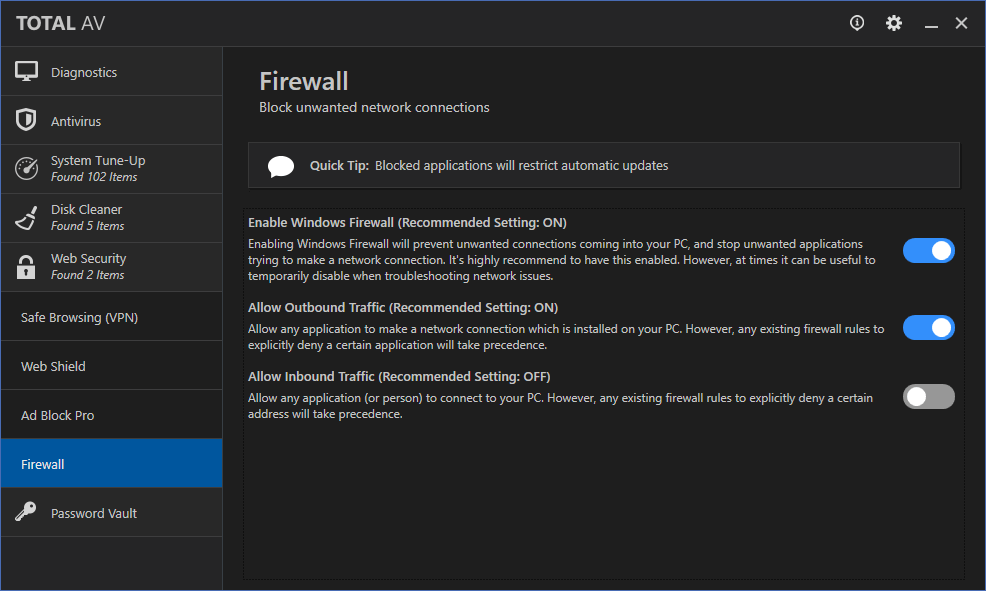 It might be useful, to some extent, to have easy, remote access to Windows Firewall settings within your main security program. But beyond this interface with a tool that you already own, TotalAV isn't actually providing anything in this respect.
This in itself shouldn't deter you from considering TotalAV, but perhaps discounts this as a meaningful feature.
Browser Extension
Total AV's Safe Site browser extension is downloaded separately from TotalAV and is available for free.
The browser extension shortcut provides quick access to three browser actions: clear cookies, launch private window, and clear history.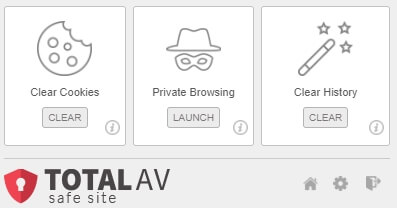 These buttons might conceivably be useful if you these three functions regularly and, for whatever reason, you don't use hotkeys. The real point of the extension, however, is to provide safe browsing via the early detection of phishing sites.
Phishing scams have evolved beyond the suspicious emails we've all received from grammar-challenged Nigerian benefactors. It's increasingly important to have experts on your side, who can automatically steer you away from inauthentic sites trying to steal your login credentials or payment details.
On this front, Safe Site performed really well, spotting 9 out of 10 tested phishing sites and outperforming the built-in protection offered by Chrome.
TotalAV Plans and Pricing
TotalAV has a free product and three paid packages. Some extra features are only available as extras. All versions of TotalAV are available across PC, Mac, Android, and iOS.
The free version of TotalAV is actually a malware scan and removal process. After the scan is complete and any malware is removed, the user is prompted to upgrade. To be fair, TotalAV is pretty upfront about this: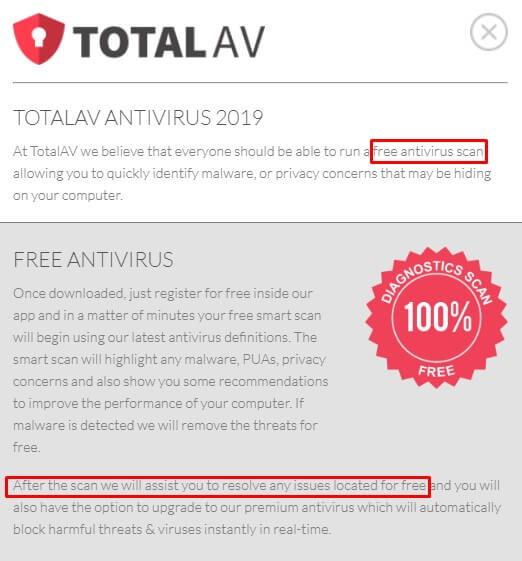 So, TotalAV Free doesn't offer real-time protection or any security features beyond a malware scan and malware removal. And removal really is the only option - there's no way to quarantine any suspicious files. You either ignore them or delete them.
Despite all this, I'm not all that concerned about the weakness of the TotalAV's free offering. Free antivirus programs can offer good protection, but protecting your devices is obviously something important enough to spend money on.
The cheapest paid tier is TotalAV Essential. This product offers security features such as advanced ransomware protection, real-time protection against all types of malware, and remote access to your firewall.
The next tier, TotalAV Pro also includes a password manager and an "antivirus ebook" (I still haven't located this). The top tier, Total AV Ultimate comes with a smartphone optimizer and 24/7 priority customer support.
TotalAV's optimization tools are a welcome bonus for an antivirus program and are available on desktop at all pricing levels.
The System Tune-Up dashboard shows the three optimization tools: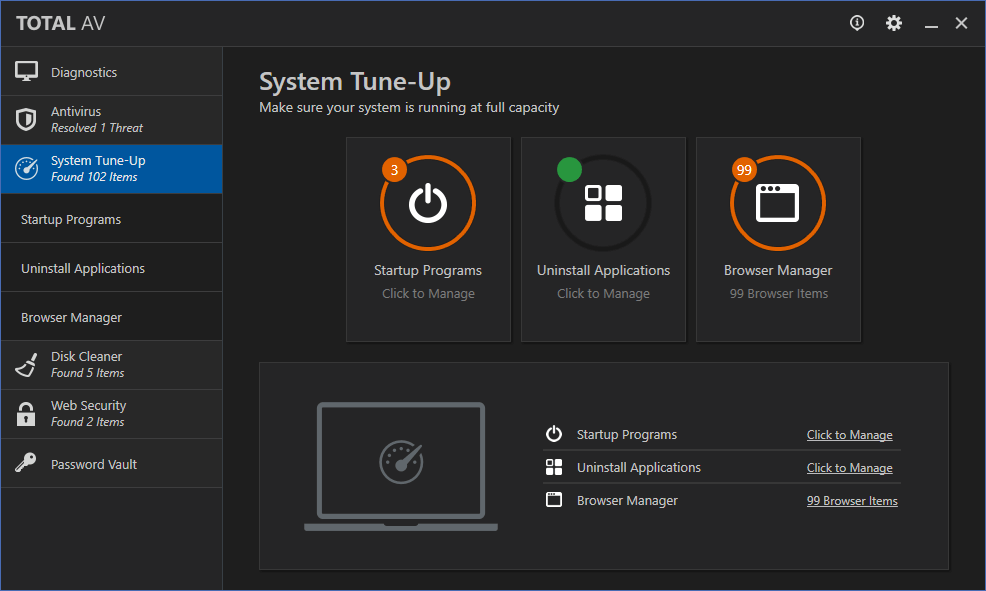 The Startup Programs and Uninstall Applications work fine. The Browser Manager is a nice touch. It allows you to conveniently manage your cookies across multiple browsers.
The Disk Cleaner (which, for whatever reason, has its own sidebar entry) can delete junk and duplicate files.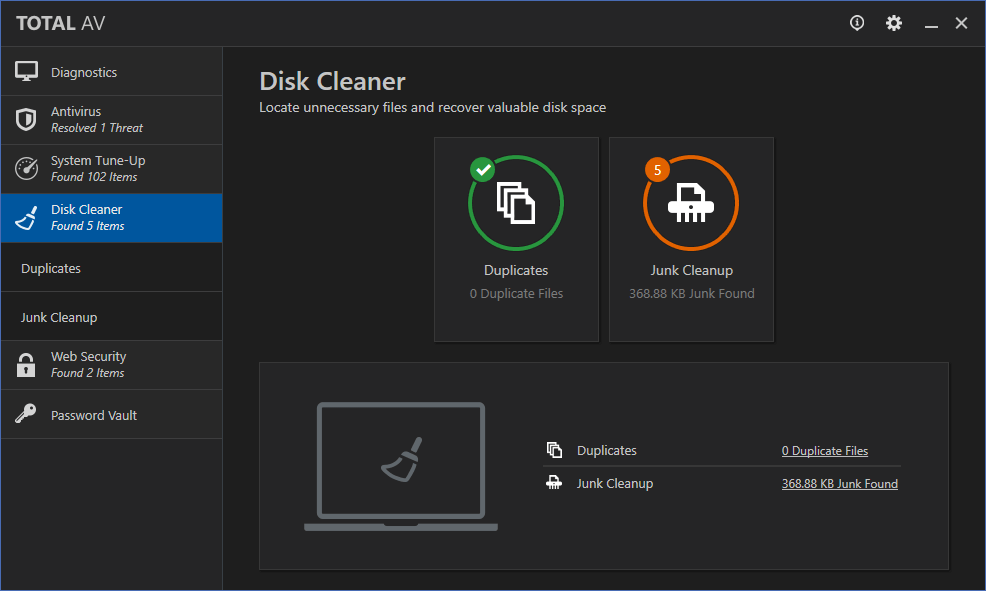 These are not cutting edge features and are either available for free elsewhere or included with your operating system. But their inclusion with TotalAV turns it from a simple but effective antivirus to a centralized control hub for your PC.
None of TotalAV's paid packages offers everything. This becomes apparent upon visiting the Web Security dashboard: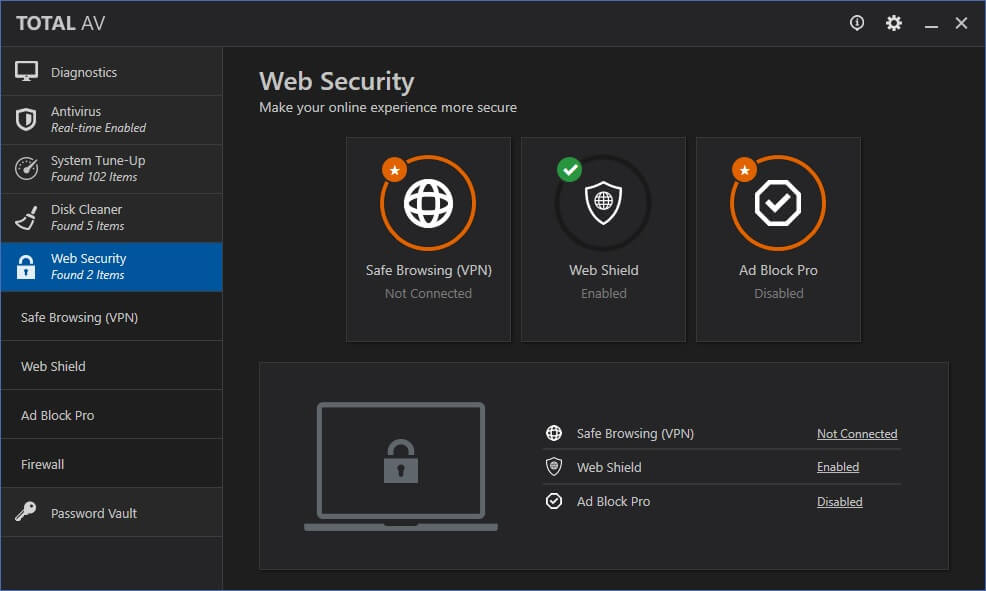 Two out of three of these options - Safe Browsing VPN and Ad Block Pro - were unavailable to me as an Ultimate subscriber. I was informed that they are "Premium Features".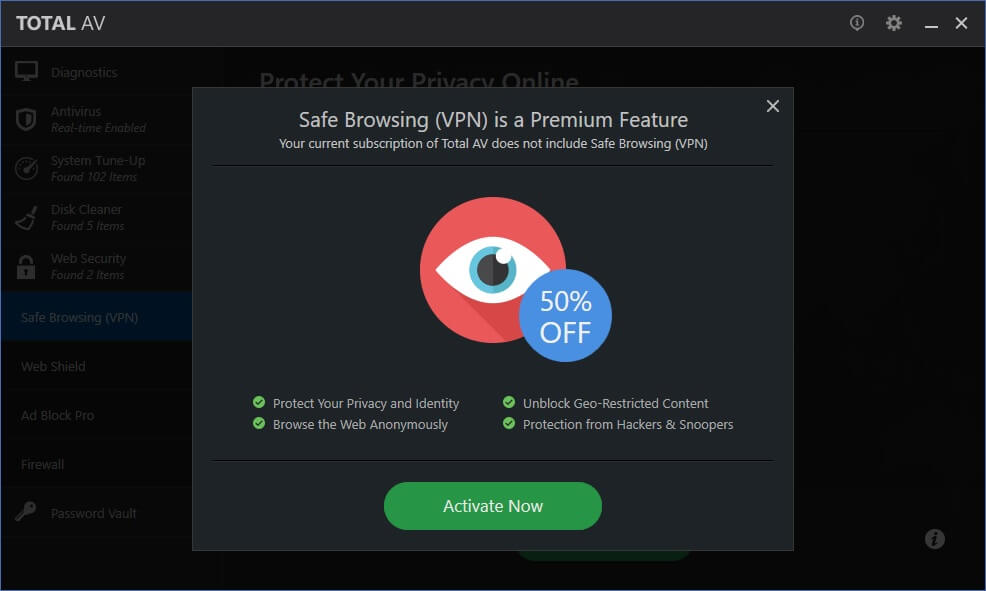 TotalAV uses the OpenVPN protocol and allows connections across 36 countries. VPNs are no longer the reserve of privacy and security geeks. They are offered with several top-end internet security programs. But a VPN isn't offered as standard with many antivirus programs.
The Ad Blocker is also a Premium Feature. But frankly, I can't see much reason to stump up extra cash for this.
It's worth mentioning that two days after signing up, I did get an email offering me 50 percent off these extra features. This brings the cost of the VPN down to quite a competitive level.
Despite these optional extra costs, TotalAV represents good value if you factor in the current discounts. But if you're looking for a free antivirus, you'll be better off with a program like Avast.
In comparison, Norton Antivirus Plus (also a great product) is currently twice as expensive as TotalAV Essential Antivirus, taking both brands' discounts into account. Norton's basic program does offer a password manager, however, which is unavailable at the TotalAV's cheapest tier.
Just remember that the discount only applies for the first year!
TotalAV Ease of Use and Setup
Once downloaded, setting up TotalAV is eminently simple. The install time, including downloading the malware definitions library, totals around twenty minutes.
Navigating TotalAV's security features could not be easier. If you can browse the web or check your email, you won't have any problems using TotalAV's intuitive and attractive user interface.
The user-interface operates a sidebar and tile-selection format.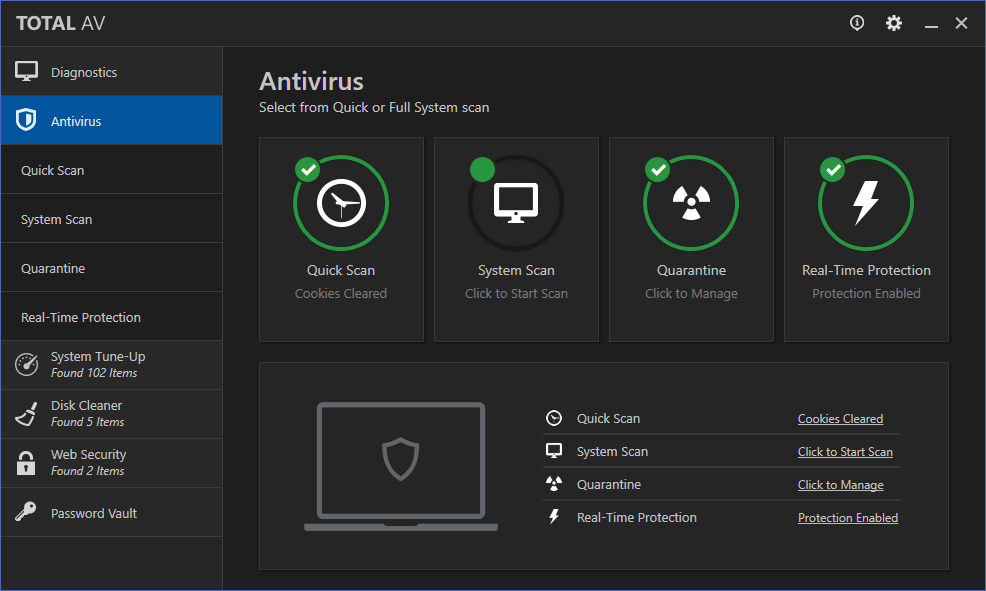 Everything about TotalAV's design is accessible, minimalistic, and intuitive.
This is one of the reasons I'm more forgiving about the inclusion of certain "non-features" such as the firewall access and disk cleanup. TotalAV is actually a good way to access these features.
TotalAV is also a sleek performer. Neither the quick or full scans had any noticeable impact on my PC's performance.
TotalAV Customer Support
TotalAV offers good customer service coverage. Live chat and email are available across all plans. Priority 24/7 customer support comes with TotalAV Ultimate. This includes phone support.
Phone lines are provided across an impressive range of countries, including:
United States

United Kingdom

Australia

Canada

France

Germany

Spain
There's also a number listed for "Europe" and "International".
I decided to check out the live chat. I wanted to confirm whether TotalAV's firewall was, in fact, a unique feature - or simply a means by which to control Windows Firewall.
The live chat operative asked me for quite a few personal details, including my full address and phone number. I wasn't inclined to share this, particularly as I hadn't actually provided this information at sign-up.
Despite my somewhat undiplomatic response to her request, the agent was very polite, immediately answering and my general query in an honest and upfront way.
I hadn't received any email confirmation of my subscription, so I decided to email customer support to ask them to send this. TotalAV got back to me 15 hours later.
This wasn't an urgent inquiry, so I have no complaints about this response time.
TotalAV Products and Pricing Comparison
| | | | |
| --- | --- | --- | --- |
| | TotalAV Ultimate Antivirus | TotalAV Antivirus Pro | TotalAV Essential Antivirus |
| Platforms | PC, Mac, Android, iOS | PC, Mac, Android, iOS | PC, Mac, Android, iOS |
| Number of Device Licenses | 5 | 3 | 1 |
| Advanced Ransomware Protection | ✓ | ✓ | ✓ |
| Real-Time Antivirus Protection | ✓ | ✓ | ✓ |
| Virus, Trojans Adware Spyware & Malware Protection | ✓ | ✓ | ✓ |
| Protection against Phishing Scams | ✓ | ✓ | ✓ |
| Free Up System Space with Disk Cleaner | ✓ | ✓ | ✓ |
| PC Performance & Optimization Tools | ✓ | ✓ | ✓ |
| Remote Firewall Protection | ✓ | ✓ | ✓ |
| Stay Safe Online With Web Shield Extension | ✓ | ✓ | ✓ |
| Web Browser Cleaner & Manager | ✓ | ✓ | ✓ |
| Antivirus eBook | ✓ | ✓ | x |
| Safe Password Vault | ✓ | ✓ | x |
| 24/7 Priority Super-Fast Support | ✓ | x | x |
| Smartphone Optimizer & Protection | ✓ | x | x |
| 30 Day Money Back Guarantee | ✓ | ✓ | ✓ |