7 Best Antivirus Software for Windows 11 in 2023
It's hard navigating the vast sea of antivirus options. But don't worry, we're here to help. We researched all the top products on the market to find you the best security possible.
It was disappointing to see that many solutions only focus on generic protection, leaving devices vulnerable to unique and emerging threats. But through rigorous testing, we separated the champions from the amateurs. These antiviruses will detect and neutralize threats before you even know they exist.
What's the best antivirus?
Norton comes out on top. It's beginner-friendly, packed with features, and uses machine learning to stay up to date on current virus trends. All this means your device will never be left behind. Throw in Norton's excellent customer support and affordable prices and it's easy to see why they're the gold standard of antivirus software.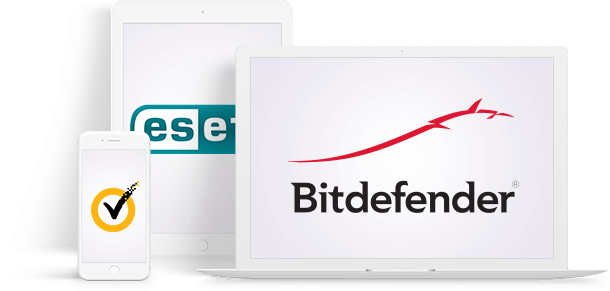 Advertiser Disclosure
The first thing you should know is that SafetyDetective's first priority is you, the user. We will publish each user review that we authenticate, good or bad. Although we may receive commissions when you click our links and make purchases, this does not impact the fairness of our reviews, comparisons, or rankings.

Why You Should Trust Us
When choosing which antivirus to install, it's important to know whom you can trust. The problem is that there are so many antivirus review sites online — and most of them are run by shady marketers trying to earn a quick buck by recommending products that offer the best affiliate programs. And as you can imagine, these products often aren't the best ones for users.
Instead of going the quicker route — which we believe is both morally and ethically wrong — we decided to do things differently. We extensively researched, tested, and compared all of the most popular antiviruses on the market to determine which ones are really good. And we regularly re-test all of our top antiviruses and update our lists and reviews to make sure that everything you read on our site is 100% true.
We have years of experience in testing and reviewing security software, and our mission is to provide trusted and transparent reviews that can genuinely help our readers find the right antivirus for their needs and budget. We would never endorse a bad product, and you can rest assured that we only recommend antiviruses that we are perfectly happy with using ourselves.
Why Do You Need an Antivirus?
Antivirus software is the best, easiest, and most reliable way to keep your device safe from all types of cybersecurity threats. Using traditional malware databases and advanced machine-learning tools, antiviruses are able to quickly detect and safely remove these threats from all of your devices. And thanks to their real-time malware protections, they can prevent malware from infecting your system in the first place.
But modern antiviruses are much more than just malware scanners. They come with a wide range of additional tools to protect your entire online experience. Top brands include security features like web protections to secure your browsing, firewalls to monitor incoming and outgoing traffic, virtual private networks (VPNs) to keep your online sessions private, parental controls to help you keep your kids safe online, and password managers to ensure your passwords are unbreakable.
In short, installing a good antivirus from a reputable, trustworthy company is essential for protecting your data and devices from known and emerging malware that is designed to make your devices unusable, gain access to your sensitive data, or both.
Features comparison
Boot-Time Scan
AntiSpam
Firewall
Email Security
IDS
IPS
Macro Protection
CloudAV
Free Trial
Moneyback: 30 Days
Boot-Time Scan
AntiSpam
Firewall
Email Security
IDS
IPS
Macro Protection
CloudAV
Free Trial
Moneyback: 60 Days
Latest reviews on top Antivirus services
Dispite being a loyal customer of Norton for many years and only renewed 3 month...
Get Norton
Good product but the problem as ever with the renewal fee which was too high.
Get TotalAV
Avast took $77.99 out of my checking account that I did not authorize. I called...
Get Avast
Frequently Asked Questions